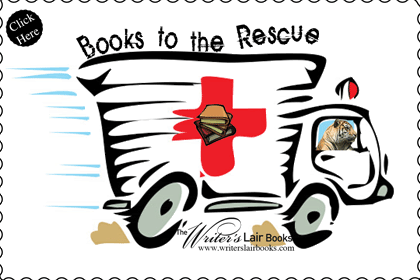 The Writer's Lair Books is launching a 72-Hour "Books to the Rescue" Fundraiser starting at 12:01am EST TOMORROW May 26, 2011 and ending 11:59pm EST May 28, 2011 to support the Severson Sisters Foundation, a foundation dedicated to ending bullying and inspiring girls towards authenticity and confidence.
Carrie Severson founded Severson Sisters with the idea that cultivating creativity helps to eliminate peer pressure and forge what she calls a Supergirl. Carrie posits that artistic outlets not only give girls a place to express themselves and to flourish, but also allows for girls to better connect with one another in what she calls sisterhoods. Their mission to end bullying falls right in line with the anti-bullying we promote with our book, Flightless Goose. Consider buying any book in our bookshop to support the Severson Sisters Foundation. Let us know you are for the "Severson Sisters Fundraiser" at checkout. A portion of each book sold will be donated to this organization.
We know that helping young girls is motivation enough, but we thought we'd throw in some prizes to thank you for your help. At checkout, the buyer will list both 'Severson Sisters Foundation' and from which blog they heard about the fundraiser. From this data, we will tally the top three bloggers and award them one of the following prizes:
First Place Prize:
$50 giftcard to Amazon.com
Second Place Prize:
A gift basket including a signed copy of our book Flightless Goose, the book's audio CD, an Illustory kit that lets children publish their own hard copy children's book, and other summertime goodies
Third Place Prize:
A copy of our exciting and fun novel entitled
Shiva's Arms
, which dramatizes the clash of cultures in a family
Those Important Details:
1. All sales must be through our
website
.
2. For more information, go
here
Be sure to check out the
Severson Sisters Foundation
. Thank you, in advance, for helping us support the Severson Sisters Foundation and helping to build Supergirls!